Teeth Whitening in Morgan Hill, CA
Anyone who has had to endure the embarrassment of discolored teeth will understand how that can lead to a severe loss of self-confidence. Your smile is one of the first things recognized by those around you, and when that smile is subpar, it can really hold you back. You don't have to hide your smile anymore, because there are some wonderful teeth whitening options you can consider at the Your Dentistry clinic in Morgan Hill. Once your teeth have been restored to their former level of whiteness, you'll regain all that self-confidence, and you'll once again feel good about yourself. In just a few sessions, you can have a dazzling white smile again, and your whole outlook on life will be much more upbeat.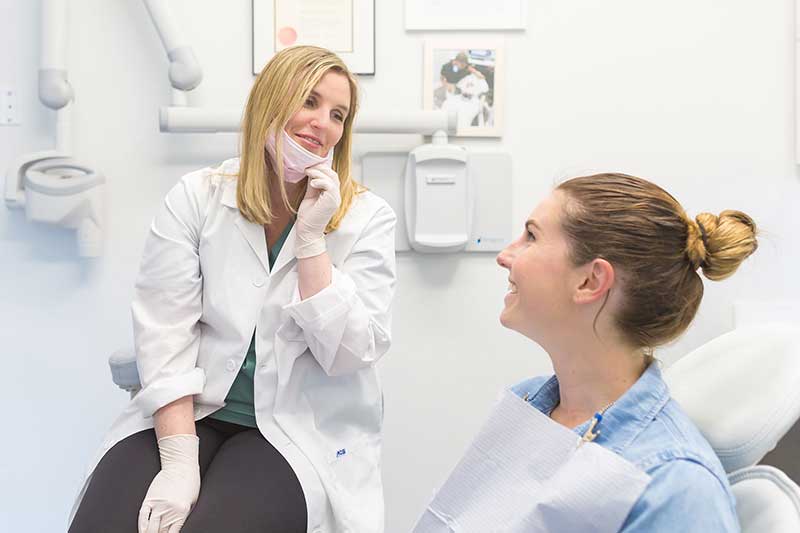 What causes teeth to become discolored?
There are actually quite a few things which can cause your teeth to become discolored over a period of time. Coffee, tea, and red wine can very easily stain your teeth, since they all contain chromogens which attach to your enamel and begin to discolor them. The tar and nicotine from tobacco can also stain your teeth significantly. Tar has a naturally dark color, whereas nicotine has no color at all until it mixes with oxygen, at which point it turns yellow.
Your teeth can also change color if you've been exposed to some kind of trauma like a hit in the mouth. This can trigger a gradual discoloration, because your mouth naturally produces more dentin, which is a darker layer beneath the enamel of your tooth. It's also possible for a number of medications to discolor your teeth, for instance high blood pressure medications and some kinds of antihistamines.
Some antibiotics such as tetracycline and doxycycline can also cause discoloration of your teeth. Anyone who has undergone chemotherapy or radiation of the head and neck area might also experience a darkening of their teeth. Finally, simple aging can often cause discoloration of the teeth. As you get older, the outer layer of enamel gets thinner from brushing, and that will allow more of the yellowish dentin underneath to be exposed.
How does teeth whitening work?
The process of whitening your teeth is actually a very simple one. Most products used for whitening contain either hydrogen peroxide or carbamide peroxide. Both of these are bleaches which are capable of breaking up stains into smaller pieces. That in turn, makes the color far less concentrated, and will allow your teeth to shine brighter. Whitening doesn't always work for every patient, and that's why you should consult with your dentist before undergoing teeth whitening.
The kinds of teeth which are most adaptable to teeth whitening are yellow teeth, but brown teeth and gray teeth tend to not respond very well to whitening treatments. Whitening will also not work on any kinds of veneers, caps, or crowns, since these are not part of your natural teeth. Generally speaking, teeth whitening will also not be effective if you have suffered a tooth injury, or if your discoloration is attributable to medications.
What are the options for teeth whitening?
If it turns out that you are a good candidate for teeth whitening, there are several options which will be available to you. Some stain removal toothpaste can be effective at whitening your teeth, especially those approved for the process by the American Dental Association. These kinds of toothpastes contain extra polishing agents which are effective at removing stains.
A process called chairside bleaching generally requires only one visit to your dentist office. During this procedure, a protective gel will be applied to your gums, and then bleach will be administered to the teeth for whitening. At-home bleaching is another option which involves a custom-made tray provided to you by your dentist. You will receive instructions on how to use a bleaching solution with that tray. This process may take anywhere from a few days to a few weeks, but it will be a more comfortable option for many patients.
There are also some over-the-counter bleaching products available at most pharmacies, and in some cases, in grocery stores as well. There are a number of toothpastes or special whitening strips which can accomplish the bleaching by using a concentrated agent. In general, the amount of bleaching agent in these products would be less than what your dentist uses, so if you're looking for a faster solution, you should stick with your dentist.
If you do decide to use an at-home product, make sure it has the ADA Seal of Acceptance. That means it will have been tested thoroughly, and has been shown to be effective for the process of teeth whitening.
What are the credentials of my Morgan Hill dentist?
Dr. Harsirat Gondara earned a Bachelors Degree in electrical engineering from the State University of New York at Buffalo, prior to completing her dental education at the Western University of Health Sciences. She is an active member of the American Dental Association as well as the State of California Dental Association.
She has committed herself to staying abreast of all emerging technologies and techniques in the field of dentistry, so she can provide the very best care to her patients. All this has led her to acquiring a very caring approach to providing dental services. It's that attention to detail and genuine concern for patients which distinguishes her from many of her colleagues.
Where can I get my teeth whitened?
When you're looking for a great teeth whitening service in Morgan Hill, CA, your best bet is to contact Your Dentistry. The dental specialists at this clinic have performed teeth whitening services for many patients already, and can quickly determine whether or not you are a good candidate for the procedure. Contact the dental team at Your Dentistry, so you can set up an initial consultation. If it turns out you're a good candidate for teeth whitening, you can count on the experts at this facility to help you achieve all your goals with cosmetic dentistry.
We Look Forward to Meeting You!
We are just off 101 with ample parking in Madrone Plaza, Morgan Hill
Discover Efficient, Predictable, And Convenient Dentistry
Monday: 9am to 6pm
Tuesday-Friday: 8am to 5pm
Saturday: 8am to 4pm
Sunday: by Appointment
Our Hours
Monday 9:00 AM – 6:00 PM 
Tuesday 8:00 AM – 5:00 PM
Wednesday 8:00 AM – 5:00 PM
Thursday 8:00 AM – 5:00 PM
Friday 8:00 AM – 5:00 PM
Saturday 8:00 AM – 4:00 PM
Sunday – by Appointment