Dental Crowns Dentistry in Morgan Hill, CA
A dental crown is an oral device which completely encircles or caps a tooth, often for the purpose of protecting the tooth. The tooth may have been damaged through some type of injury, or it may have sustained severe decay, and the dental crown will ensure that no further damage occurs. In order to maintain the crown in place over the tooth, a special type of dental cement is used to bond the crown to the tooth.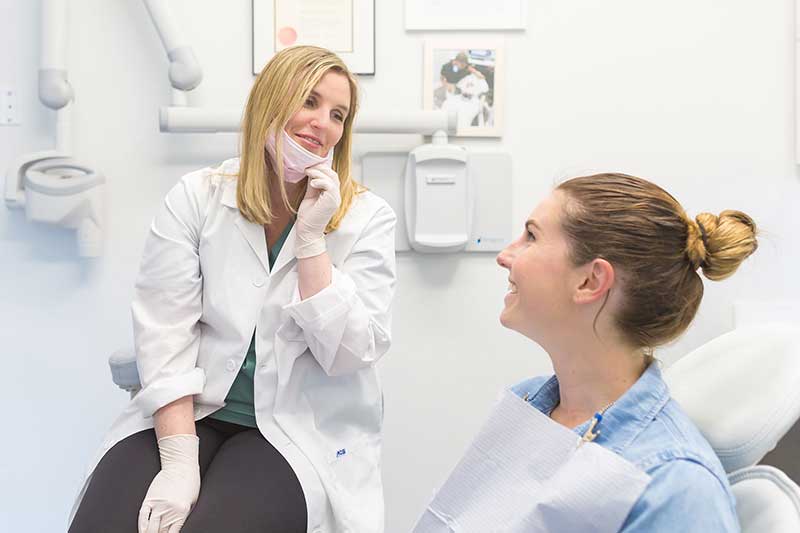 What types of crowns in Morgan Hill, CA are available?
There are several types of dental crowns which you can have installed in Morgan Hill, CA and the type you choose may depend on your budget as well as your personal preference. Gold crowns are great for strength and durability, but porcelain crowns are the most popular because they look most like your natural teeth, and they are also very durable. Porcelain-fused-to-metal crowns are less expensive than all-porcelain crowns, and have similar strength and durability. Zirconia crowns are relatively new in dentistry, but they are quickly becoming popular because they look very natural, and because they can be prepared fairly quickly, with much less waiting time. The newest type of dental crown now available is known as E-Max Lithium Disilicate, and it looks natural while also providing considerable strength and long-lasting capability.
What steps are involved in preparing a tooth for a crown?
If any decay is present in the tooth, this will have to be removed before anything else is done. Then, it will be necessary to prepare a tooth for the implementation of a crown by re-shaping the tooth by a couple millimeters on all sides. It will then be necessary to treat the gum tissue with a laser, or to pack a cord around the gum so the gum can be separated from the tooth itself. This will allow room for the crown to be installed afterward. The preparatory steps for crown installment will generally require between 50 and 90 minutes of work, to be sure the affected area is ready for the crown.
During the procedure for a dental crown
The tooth must be scanned so that an accurate impression can be made and the appropriate crown can be prepared. If cotton and gauze were installed prior to the scanning, these can be removed afterward, and if a cord was used to separate the tooth from the gum line, this can also be removed. A laboratory technician will then prepare the crown, if facilities are available on-site. When the crown has been prepared, it will be inserted and thoroughly examined by the dentist to ensure that it is a good fit on all sides. If any adjustments are necessary, they will be performed at this time. Then a bonding agent will be applied to the tooth and crown, and it will be bonded in place permanently.
Schedule your appointment in Morgan Hill, CA today
If you've been considering the possibility of having a dental crown installed, please contact us at Your Dentistry in Morgan Hill, CA. We'll be happy to answer any questions you may have about dental crowns, or we can schedule an initial consultation to determine if you're a good candidate. Our expert dental professionals will be able to accommodate your needs when you reach out and contact us.
Our Dental Crown Procedure Experience
Our dental crown services are focused around our general dentistry practice, where everyone in your family can be treated, and oral hygiene for everyone can be improved. In addition to conducting a thorough examination of your mouth at each visit, we'll check for signs of gum disease and more exotic oral health issues. If there are any issues which require attention, we'll discuss them with you, and consider the best approach for dealing with these issues. 
We'll also make sure your teeth are thoroughly cleaned, and that all foreign substances are removed from your gums, so that gum disease can't get a foothold. We'll use a special gritty toothpaste to ensure that your teeth are as clean as they can be, and we'll floss in between teeth so you don't have any buildup there. After we're sure that your teeth are sparkling clean and free of all cavity-forming substances, we'll discuss some best practices with you, so you'll be aware of how to manage your own good oral hygiene.
In order to provide the best service to our patients, we offer an emergency service where our dental professionals will be on call to handle any crisis you might encounter with your oral health. For instance, you might have a sudden toothache which drives you to distraction, or your teen-aged son might sustain a broken tooth at football practice. Whenever something bad happens with your oral health, we'll be there to help you recover from it.
Other Morgan Hill Dental Services
Besides our family practice and our emergency dental services, we also offer a number of other dental services which many of our patients have already found extremely effective and useful. Cosmetic dentistry has become very popular, as people strive to improve their smiles and their self-confidence along with them. Cosmetic dentistry could be as simple as a teeth-whitening process which removes stains from your smile, or it could involve installing dental veneers which cover discolored teeth or fill in gaps between teeth.
We also provide orthodontic services for people who need their teeth straightened, and you might even be a candidate for Invisalign braces which are clear and barely detectable when in your mouth. Dental implants are also one of our premier services, because a great many people have lost one or more teeth for whatever reason, and need to have them replaced with an implant that's just as strong as their original tooth, and which looks and functions like a normal tooth.
If you have any questions about services we provide to the community, please do contact us and we'll be happy to let you know if that's one of the services we offer.
We Look Forward to Meeting You!
Discover Efficient, Predictable, And Convenient Dentistry
Monday: 9am to 6pm
Tuesday-Friday: 8am to 5pm
Saturday: 8am to 4pm
Sunday: by Appointment
Our Hours
Monday 9:00 AM – 6:00 PM
Tuesday 8:00 AM – 5:00 PM
Wednesday 8:00 AM – 5:00 PM
Thursday 8:00 AM – 5:00 PM
Friday 8:00 AM – 5:00 PM
Saturday 8:00 AM – 4:00 PM
Sunday – by Appointment