Morgan Hill Dental Crown Dentistry
Dental Crowns in Morgan Hill
If you live in Morgan Hill, CA, or anywhere in the surrounding area, you may have conducted a search for 'dental crowns near me', and saw our dentistry service at the top of your list. We hope you'll contact us, because there truly is no more advanced dental clinic in the entire area than ours, and you'll love the fact that you can be ultra-comfortable in our state-of-the-art facility. At our dental practice, you'll find that it's a place where patient comfort has equal status with professional skill and know-how, so your dental crowns will be installed by experts in the field.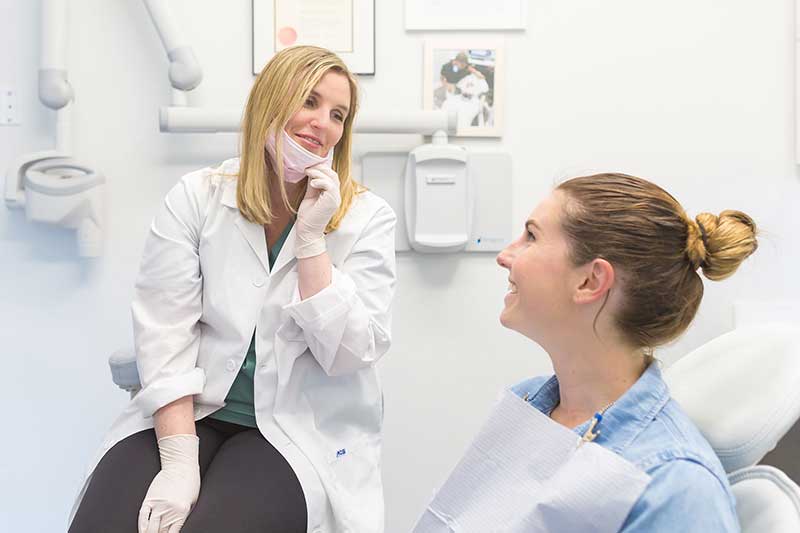 Dental crowns are basically caps for teeth which have been damaged somehow. Most crowns are either made of porcelain, ceramic, or some type of metal, and when you're trying to decide which type to have installed, you'll need to consider a number of factors, for instance durability, strength, and cost. It might also be important to you that your crown matches the other teeth in your mouth, so it doesn't detract from your smile in any way. Your dentist may also recommend a specific material based on the location of the damaged tooth, its normal function, and how much of your tooth still remains in place.
Individuals who typically need a dental crown are those who have a cavity which is too large to be filled, or if you have a tooth which is extremely worn down, weakened, or cracked. It's often advisable to install a crown over a root canal, to provide more protection for the root canal. You might be a good candidate for dental crowns if you're missing one or more teeth, and your dentist recommends an implant or dental bridge.
The procedure for a dental crown is fairly straightforward. First the cavity will be identified and opened up, then the tooth will be trimmed so there can be a solid base for the crown. Then a temporary crown will be put in place as a kind of placeholder, while an impression of your mouth is sent to a laboratory so a permanent crown can be made. When the permanent crown is ready, the temporary crown will be removed, and the permanent one will be installed.
After you've had crowns installed by one of our top-notch practitioners, you won't need to search for 'dental crown near me' anymore – you'll know right where to go!
Our Dental Crown Procedure Experience
Our dental crown services are focused around our general dentistry practice, where everyone in your family can be treated, and oral hygiene for everyone can be improved. In addition to conducting a thorough examination of your mouth at each visit, we'll check for signs of gum disease and more exotic oral health issues. If there are any issues which require attention, we'll discuss them with you, and consider the best approach for dealing with these issues. 
We'll also make sure your teeth are thoroughly cleaned, and that all foreign substances are removed from your gums, so that gum disease can't get a foothold. We'll use a special gritty toothpaste to ensure that your teeth are as clean as they can be, and we'll floss in between teeth so you don't have any buildup there. After we're sure that your teeth are sparkling clean and free of all cavity-forming substances, we'll discuss some best practices with you, so you'll be aware of how to manage your own good oral hygiene.
In order to provide the best service to our patients, we offer an emergency service where our dental professionals will be on call to handle any crisis you might encounter with your oral health. For instance, you might have a sudden toothache which drives you to distraction, or your teen-aged son might sustain a broken tooth at football practice. Whenever something bad happens with your oral health, we'll be there to help you recover from it.
Other Morgan Hill Dental Services
Besides our family practice and our emergency dental services, we also offer a number of other dental services which many of our patients have already found extremely effective and useful. Cosmetic dentistry has become very popular, as people strive to improve their smiles and their self-confidence along with them. Cosmetic dentistry could be as simple as a teeth-whitening process which removes stains from your smile, or it could involve installing dental veneers which cover discolored teeth or fill in gaps between teeth.
We also provide orthodontic services for people who need their teeth straightened, and you might even be a candidate for Invisalign braces which are clear and barely detectable when in your mouth. Dental implants are also one of our premier services, because a great many people have lost one or more teeth for whatever reason, and need to have them replaced with an implant that's just as strong as their original tooth, and which looks and functions like a normal tooth.
If you have any questions about services we provide to the community, please do contact us and we'll be happy to let you know if that's one of the services we offer.
We Look Forward to Meeting You!
We are just off 101 with ample parking in Madrone Plaza, Morgan Hill
Discover Efficient, Predictable, And Convenient Dentistry
Monday: 9am to 6pm
Tuesday-Friday: 8am to 5pm
Saturday: 8am to 4pm
Sunday: by Appointment
Our Hours
Monday 9:00 AM – 6:00 PM
Tuesday 8:00 AM – 5:00 PM
Wednesday 8:00 AM – 5:00 PM
Thursday 8:00 AM – 5:00 PM
Friday 8:00 AM – 5:00 PM
Saturday 8:00 AM – 4:00 PM
Sunday – by Appointment