Dental Bridge Dentistry in Morgan Hill, CA
Dental Bridge is typically a false tooth fused between two crowns to replace the missing tooth. Dental bridge will improve your smile by joining an artificial tooth to teeth nearby or existing dental implants permanently. It is also called a "fixed bridge" or a "fixed dental prosthesis." There are many different kinds of dental bridges like Traditional Bridges, Implant Bridges, Resin Bonded Bridges and also Cantilever Bridges. Apart from aesthetically making your smile better, dental bridges have several benefits:
• Custom made to fit the space between your teeth
• Prohibit surrounding teeth from drifting out of position
• Protects spaces left due to missing teeth
• Reduces risks such as tooth decay and gum disease
• Correct bite issues
• Improve speech
With a commitment to a serious oral hygiene routine, they can last up to ten years or longer.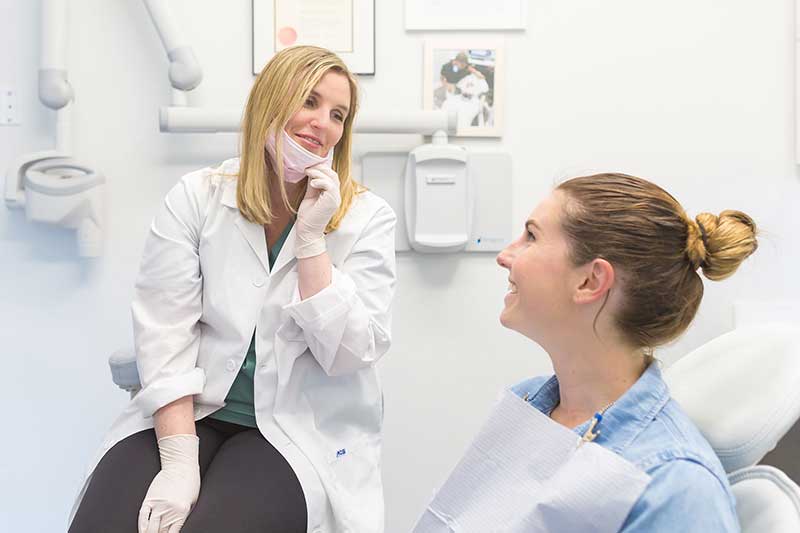 A missing tooth can be a frustrating part of your mouth. Not only do you have to adjust the way you eat and drink because of the gap, but the missing tooth can expose the remaining teeth to additional wear and tear, leading to damage. If you have a missing tooth, it is a good idea to have it replaced so you can improve your oral health as well as restore your smile. While there are multiple options for replacing missing teeth, one common solution is a dental bridge.
Types of Dental Bridges
A dental bridge is a way to address a missing tooth. The bridge is a false tooth held in place with an appliance that affixes it to the two teeth on either side of the gap. This restores the look of the smile and allows you to have greater use of your teeth when eating and drinking with the replacement tooth in place.
There are four main types of dental bridges used to replace a missing tooth.
The traditional dental bridge affixes a false tooth in place with dental crowns cemented on the teeth on either side of the gap. This is the most common type of bridge, and is used when you have a tooth on either side of the gap to hold the bridge in place.
The cantilever dental bridge is similar to the traditional bridge, but uses only one crown affixed to a tooth to hold it in place. This requires only one natural tooth next to the gap.
The Maryland dental bridge replaces the dental crown with a metal or ceramic framework bonded to the backs of two teeth on either side of the gap.
The implant-supported dental bridge uses dental implants rather than crowns or frameworks to hold the replacement tooth in place. This process is more in-depth, but is considered more stable than other bridge types.
Getting a Dental Bridge
The process for getting a dental bridge depends on the type of bridge you will be using to replace a missing tooth. Other than the implant-supported bridge, most procedures are variations on the traditional dental bridge. Most will require multiple appointments due to the preparation of the abutment teeth that is needed.
In the first appointment, the abutment teeth are prepared for the bridge by making room for the crown to be placed. Once they are shaped, impressions are made so the crowns and false tooth can be manufactured. A temporary bridge will be put in place to protect the area until the permanent bridge it put in place.
At the second appointment, the temporary bridge is removed, and the new bridge will be checked and, if needed, adjusted to ensure it fits properly. If adjustments are needed, you may need additional appointments.
A dental bridge is not just about the look of your smile. Replacing the missing tooth helps restore better functionality of your teeth, making it easier to eat and drink. In addition, it can help prevent damage to the teeth on either side of the gap by providing support with the replacement tooth. If you have a missing tooth that needs to be replaced, a dental bridge may be a good option for you.
FAQs
Q. How long does it take to get a dental bridge?
A. The number of appointments needed for a dental bridge varies based on the type of bridge you are getting, the initial fit once it is put in place, and other factors. Though many can be placed in just two appointments, some people need additional appointments to allow for adjustments of the bridge.
Q. Is a dental bridge permanent?
A. Though a dental bridge isn't removed periodically, such as for cleaning, it may need to be replaced based on wear and tear, dental hygiene, and other factors. Dental bridges may need to be replaced every five to fifteen years, depending on a number of factors. Implant-supported bridges are a more permanent solution and usually do not need to be replaced the way traditional dental bridges are.
Q. Can anyone get a dental bridge?
A. Dental bridges are not for everyone. Depending on the type of bridge, there are some factors that need to be considered, including the overall health of your mouth, whether you have teeth that can be used to support the replacement tooth, and other factors. If you are considering a bridge, your dentist can discuss these factors with you to find out whether a bridge is a good solution for your missing tooth.
Q. Is a dental bridge necessary?
A. If you have a missing tooth, a dental bridge not only restores your smile, but it can improve the functionality of your remaining teeth. Replacing the missing tooth also provides protection for the natural teeth on either side by closing the gap that would expose the teeth to additional bacteria and contaminants that can lead to damage.
Q. What if I have more than one tooth missing?
A. You may be able to use a dental bridge to replace more than one missing tooth, if the teeth on either side of the gap can be used to support the replacement teeth. More than one missing tooth may also be replaced with implant-supported bridges. Your dentist can discuss the best options for your needs.
We Look Forward to Meeting You!
Discover Efficient, Predictable, And Convenient Dentistry
Monday: 9am to 6pm
Tuesday-Friday: 8am to 5pm
Saturday: 8am to 4pm
Sunday: by Appointment
Our Hours
Monday 9:00 AM – 6:00 PM
Tuesday 8:00 AM – 5:00 PM
Wednesday 8:00 AM – 5:00 PM
Thursday 8:00 AM – 5:00 PM
Friday 8:00 AM – 5:00 PM
Saturday 8:00 AM – 4:00 PM
Sunday – by Appointment